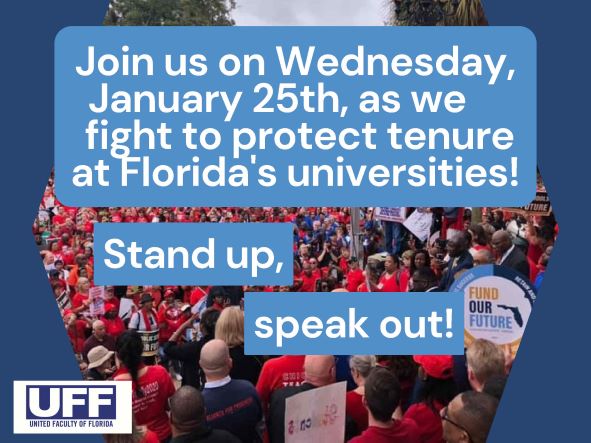 UFF Post-Tenure Review Speak Out Event!
Join us on Wednesday, January 25th, as we fight to protect tenure at Florida's universities!
WHEN?
Wednesday, January 25th
11:00 am – 12:00 pm for the Speak Out Event
WHERE?
Florida International University, Modesto A. Madique Campus – 11200 SW 8th St, Miami, FL 33199
The Speak Out will be held in the breezeway, adjacent to the Paul L. Cejas School of Architecture at the north end of campus. You can find us at the dotted location on this linked map, with the location of the Board of Governors meeting circled in red.
Members driving in from out of town should park in lots P9 or the Tech Station (PG6), Panther (PG4), or Market Station (PG5) garages in order to be closest to the event. You can find a visitor parking map linked here. UFF members can submit reasonable parking charges for reimbursement after the event. All member travel will be reimbursed according to the UFF travel policy on the UFF website.