OFFICERS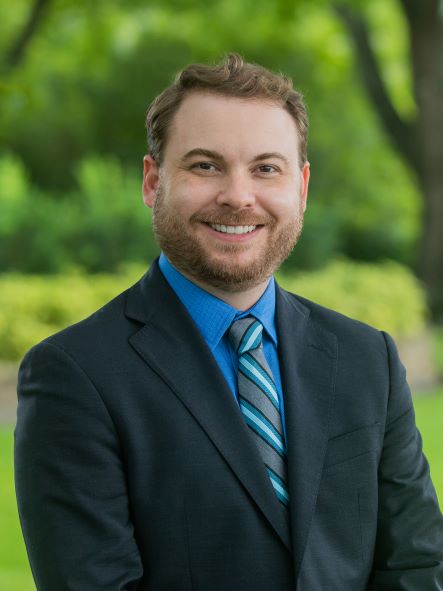 UFF President
J. Andrew Gothard, Florida Atlantic University
Andrew Gothard earned his BA and MA in English from the University of Alabama at Birmingham, then completed his Ph.D. in working-class literature at the University of Miami in 2017. During that time, he worked as a GTA, adjunct instructor, and full-time faculty member at the state university, private university, community college, and high school levels. Since 2017, he has been employed as an English Instructor at Florida Atlantic University in Boca Raton, FL. Andrew got his start in union work by door-knocking for membership recruitment in his local chapter of UFF-FAU as part of a campaign that helped the chapter reach majority union density for the first time in its history. Since then, he has served in various union leadership roles locally and around the state, including as the UFF State Membership Committee Chair from 2019-2021. As UFF President, Andrew looks forward to prioritizing the diverse and growing needs of UFF's local chapters, to building real grassroots power in Florida through a shared sense of solidarity and purpose, and to making lasting change for the better in Florida's higher education system, one member at a time.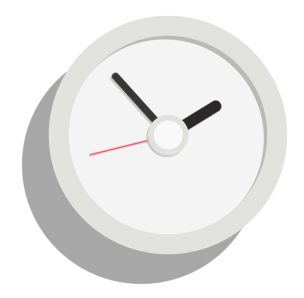 UFF First Vice President
Position Vacant, Bio Coming Soon
EXECUTIVE STAFF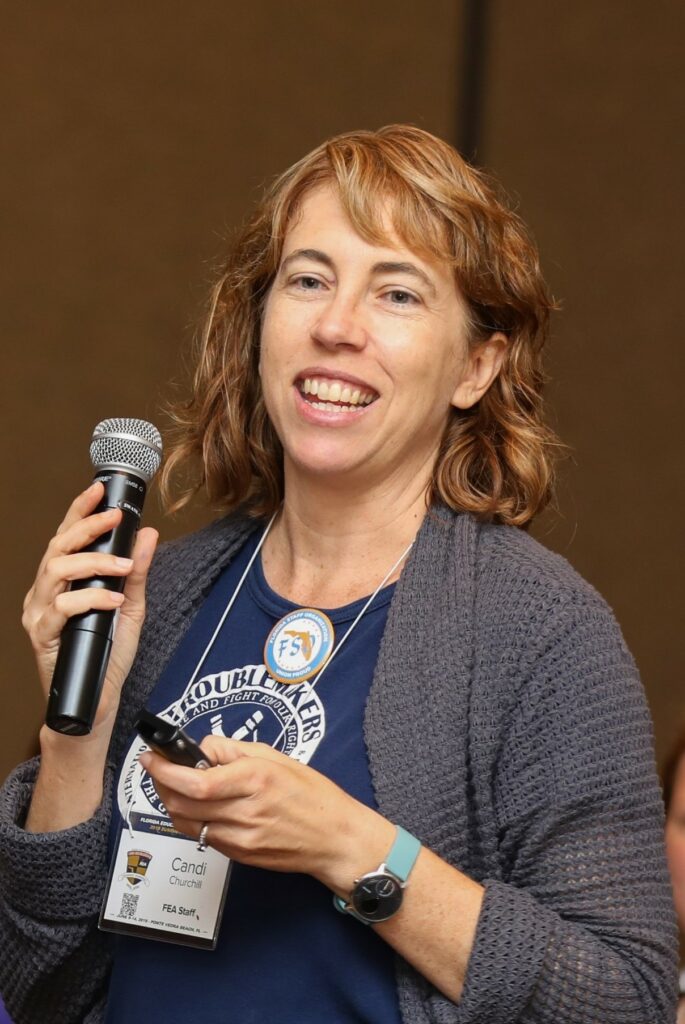 ---
Candi Churchill
Executive Director
Candi is the Executive Director of the United Faculty of Florida. She started out with UFF as a local leader with Graduate Assistants United (the UF chapter) in 2000 as a UFF Senator, Steward for Sociology and Chair of the Health Insurance campaign. She began working professionally for UFF in 2002 when all 11 university faculty chapters were threatened with decertification by the Jeb administration's devolution of the State University System. That campaign yielded over 70% support from faculty at all the universities and two re-certification elections at UWF and FSU (which both yielded over 94% yes votes). From 2006-2021, she was a Service Unit Director working with chapters to strengthen capacity and grow membership, as well as providing trainings, handling arbitrations and impasse, and supporting members facing crises. She enjoys time hiking in the mountains, swimming in North Florida's beautiful springs, playing board games, and organizing in movements for women's liberation and building the voice and power of workers.
See article Candi Churchill co-published with UFF leader Bruce Nissen in the Labor Studies Journal in March 2020:
"Unionism in a Right-to-Work Environment: United Faculty of Florida from Stagnation to Crisis Mobilization to Power Building."
FIELD STAFF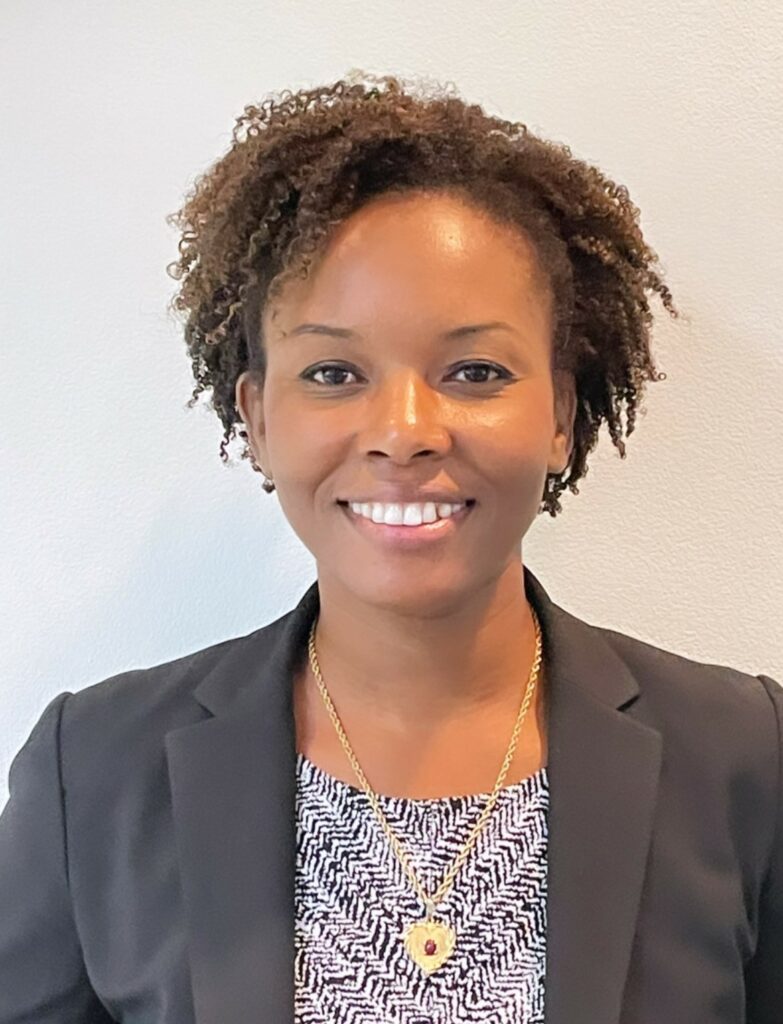 ---
Cami Acceus
Service Unit Director, Labor Relations (Northeast/Southeast)
Cami has been passionate about the labor movement and social justice since she witnessed the positive impact that labor organizing had on her family. She has worked previously for the United Federation of Teachers and the American Federation of Teachers, and she comes to us now from the Broward Teacher's Union, where she has been serving local members since 2014. Her responsibilities at BTU included contract maintenance, solving issues, representing workers in grievance and administrative investigation proceedings, training stewards, advocacy, and building worksite leadership structure. With over 12 years of union experience, Cami looks forward to bringing her expertise to the United Faculty of Florida and to making a positive contribution to the union's mission.
---
Lauren Byers
Service Unit Director, Organizing (Central/South)
Lauren began her work with UFF while studying history at the University of Florida in 2011 when million dollar budget cuts hit the Florida public university system. She then went on to work as a higher education organizer in New York and New Jersey for the American Federation of Teachers/New York State United Teachers/AFT New Jersey and was a part of a successful adjunct unionization campaign at Brookdale Community College, as well as state-wide membership campaigns in light of the impending Janus decision. In January of 2018 Lauren returned to her home state to continue her work with UFF as a Service Unit Director and Lead Organizer in central and south Florida. Since 2018, Lauren has led four successful union elections: Pasco-Hernando State College (2018), Lake-Sumter State College (2018), College Florida of the Keys (2020), and St Petersburg College (2021).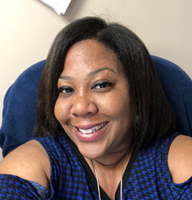 ---
Allison Clarke
Service Unit Director, Labor Relations (Central/South)
A graduate of Miami-Dade Public Schools, Allison completed her Special Education undergraduate degree at Florida International University. For 16 years, Allison served as a K-12 Special Education teacher, ESE, and ESOL Coordinator. She earned her Ph.D. in Special Education Leadership in 2016.Her expertise includes contract negotiations, grievances, training, organizing, member recruitment, due process meetings, and special investigations. While fighting for the rights of individuals with disabilities, she advocated for teacher rights as a building steward and, most recently, as an executive board member for UAW Local 2278. She is well versed in the labor laws and policies in the state of Florida and a master at creating seamless relationships between individuals, educators, administrators, and advocates. She has spent over 25 years working in the education sector, the past eight of which as a Field Staff Representative for the state's second-largest union, Broward Teachers Union.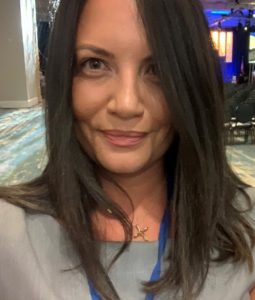 ---
Cristal Cruz
Service Unit Director, Labor Relations/Organizing (Central/South)
A long-term advocate for worker, women, immigrant, and student rights, Cristal Cruz joins UFF after having served FEA K-12 members as a Service Unit Director and Regional Specialist in the Southern Region. As an undergraduate student and Resident Assistant in the University of Massachusetts – Amherst in the early 2000's, Cristal helped organize the Residents Assistant Union (UAW 2322), the first labor union of undergraduate students in the country. Since then, Cristal has served the hotel workers union, the Florida AFL-CIO, and community organizations in different capacities in the US and Canada. With over 15 years of professional experience, Cristal's extensive work has included worker and community organizing, political organizing, campaign strategy, corporate research, and bargaining and advocacy. She has most recently served K-12 locals in the Southern Region as a chief negotiator and advocate. A native of Puerto Rico and proud Florida resident, Cristal will be serving UFF as a Service Unit Director focusing on organizing, bargaining and advocacy in the Central and Southern region. When she is not working on building our movement, you can find Cristal reading, hiking, practicing yoga, traveling, or color-coordinating lists.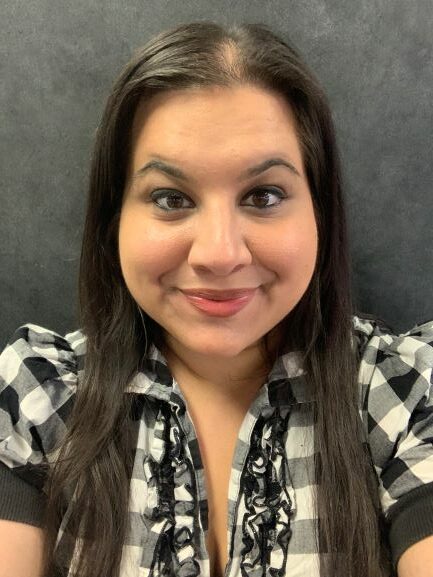 ---
Adela Ghadimi
Service Unit Director, Organizing (North)
Adela Ghadimi began her work with UFF as a three-term president of UFF-FSU-GAU, representing the Graduate Assistants of Florida State University. The proud daughter of immigrants, Adela is the first in her family to be born in the US and has always taken great pride in wanting to serve others in any way she can. Above all, equity and inclusion encompass everything she does. She is a doctoral candidate in the Askew School of Public Administration and Policy at Florida State University. Prior to beginning her doctoral work and relocating to Tallahassee, Adela lived in Washington, DC and worked in education policy and government relations and has prior professional experience in nonprofits, grassroots organizing and political campaigns. Adela has a Master's degree from the London School of Economics and completed her undergraduate studies at the University of Miami. She is thrilled to serve as the Organizing Specialist and Service Unit Director for United Faculty of Florida, for the northern half of the state.
See article Adela Ghadimi co-published with Daniel L. Fay in the Public Administration Review in 2020:
"Collective Bargaining during Times of Crisis: Recommendations from the COVID-19 Pandemic"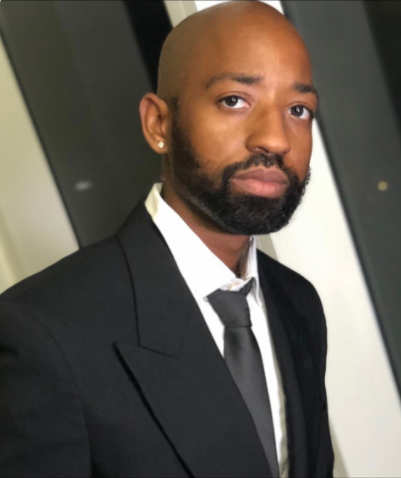 ---
Brian Marshall
Organizing (Central)
Brian began his love for organizing at Florida State University where he was involved in campaigns protesting excessive tuition hikes and organizing students to have their voices heard at the school's presidential search committee. This is where he found the important intersection between higher education and the labor movement. After graduating with a double in Economics and Political Science in 2015, he immediately began his career as an union organizer with the majority of it being in public education. Following his passion for the labor movement in Florida, he has ultimately landed as an Organizer for the United Faculty of Florida. From working on campaigns to increase teacher's salaries to pushing back against the overreach of politicians' influence in the classroom, Brian believes that there is no better time to be involved in the labor movement than now!
---
Emily McCann
Service Unit Director, Labor Relations (North)
Emily began her work with United Faculty of Florida while attending graduate school at the University of Florida (Ph.D, English). She caught the organizing bug during UF-GAU's 2011 very successful drive to organize ahead of feared decertification legislation. As a UFF member, Emily served as secretary, co-chief negotiator, and co-president of UF-GAU. After graduating in 2014, Emily accepted a position as Senior Program Officer with the American Association of University Professors. During her time at AAUP, she was lead organizer on the successful campaign to organize a new union at Plymouth State University (NH). Emily returned to Florida in late 2015 to accept the position of Executive Director of the Miracle Strip Service Unit, which serves K-12 and support professional locals in Bay, Walton, and Gulf Counties. Prior to joining UFF in 2020, Emily worked as FEA's Northern Region Bargaining and Advocacy Specialist, providing expertise in impasse, arbitration and budget analysis to chapters north of I-4. As a product of public education from kindergarten to her doctorate, Emily is honored to work on behalf of faculty and professionals at Florida colleges and universities.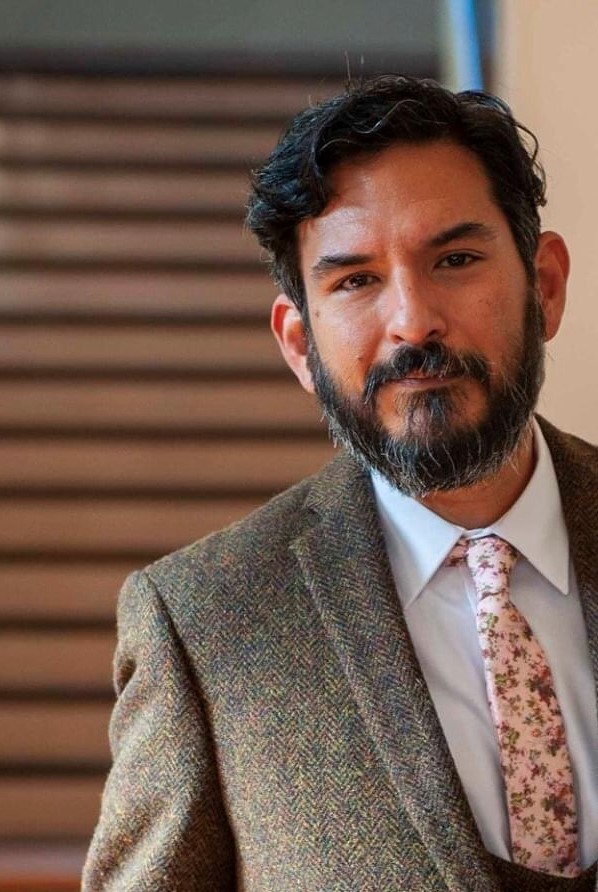 ---
Will Vargas
Organizer (Central/South)
Will Vargas, one of the newest organizing staff here at UFF, brings 21 years of professional experience organizing in both the public and private sectors. He started his long commitment to social justice soon after graduating from Florida International University in Miami when he became an organizer with the Federation of Public and Private Employees in Ft. Lauderdale representing Broward County Workers. After 10 years in south Florida he moved to north Florida to organize public school teachers with the Florida Education Association. He then moved out west to Seattle where he spent the last 7 years working with SEIU1199NW organizing healthcare workers, fighting for better working conditions, leading strike teams and fighting for racial justice in area hospitals. When he's not organizing, Will enjoys hiking, reading science fiction and cozying up with a horror movie.