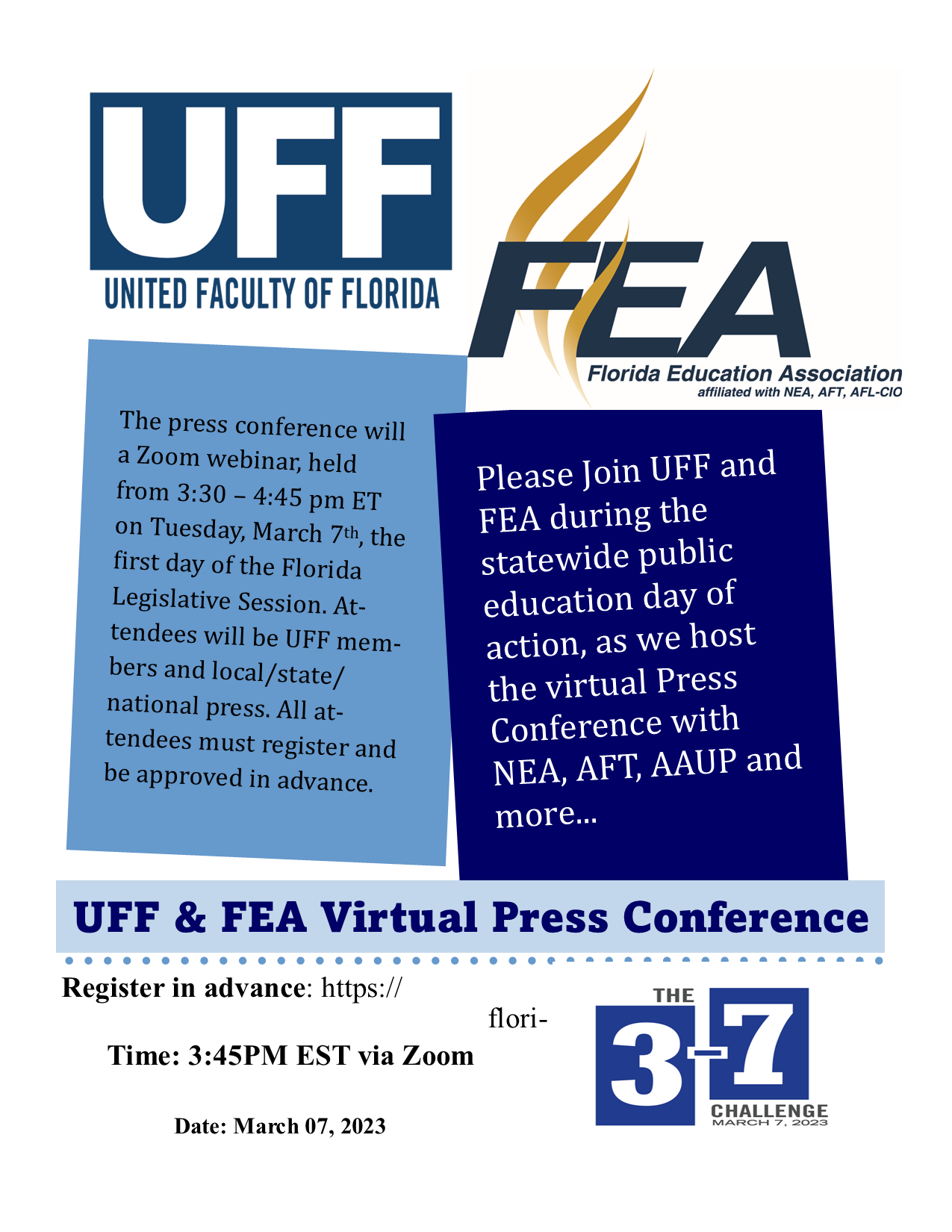 UFF-FEA Virtual Press Conference 3/7
Today is the day! The United Faculty of Florida (UFF) and the Florida Education Association (FEA) are hosting a statewide day of action to support Florida's public education system, pre-K through graduate school. If we all band together with our allies across the state and throughout the nation, we can push back the rising tide of authoritarianism that threatens to overtake the educational institutions we hold dear. There are several ways to participate in today's action, including joining any in-person events your local chapter has planned. If you are unsure of whether your local chapter is sponsoring an in-person event today or later in the week, please contact your local chapter leadership.
However, there are also actions that any member can complete at any time today, including taking part in "The 3-7 Challenge." To complete this challenge, all supporters of public education should make 3 phone calls and send 7 emails to Florida's political leaders, all in support of truth, freedom, and the constitutional rights of Florida's educational system. To take part in the "the 3-7 Challenge," follow the simple instructions below:
Visit https://feaweb.org/the-3-7-challenge/ to find easy links for your phone calls and emails, as well as talking points and other necessary information. UFF and FEA have worked together to make this process as simple as possible for you!
Join the UFF-FEA Power Hour this evening at 5:30 pm, where you can use the allotted hour to take part in the challenge and learn about other legislation that is currently moving. Register here to receive the link: feaweb.org/powerhour.
Sign up to join today's UFF-FEA Press National Press Conference, which will feature national leaders such as Randi Weingarten (AFT), Irene Mulvey (AAUP), Noel Candelaria (NEA), Florida Representative Yvonne Hinson, and more. The conference begins at 3:45 pm ET, and you can register to attend in the Zoom audience here or watch live on UFF's Facebook page here. We hope to see you there!